The Morgan and Classic Car Specialist in Cornwall
The Morgan and Classic Car Specialist in Cornwall
Friendly efficient service
Known in Cornwall for Morgan Sports Car Sales, Service & Hire, we also sell, restore and maintain other classic cars. We always have a good selection of Morgan and Classic sports cars for sale in our purpose built showroom.
In addition we also have the ability to service, MOT and maintain your everyday car, old or new from our modern fully equipped workshops. As a family run business we aim to provide all our customers with a friendly efficient service which serves all their motoring needs.
Gift Vouchers – Morgan & MG Hire
A perfect Gift for Christmas or a Special Birthday
We offer gift vouchers for Morgan and MG Classic Car hire, which are available in custom designs featuring our hire cars, with a Cornish background. A special gift for someone who loves classic cars and wants to try out the unique experience of driving an open top Morgan or MG sportscar around the wonderful Cornish countryside and along the coastline.
Vouchers are available for a minimum of one day and start from £180 for a day in our MG Roadster. Cost includes everything except for petrol. For more information and more details including terms and conditions please see our Classic Car Hire page, or call us on 01872 863037.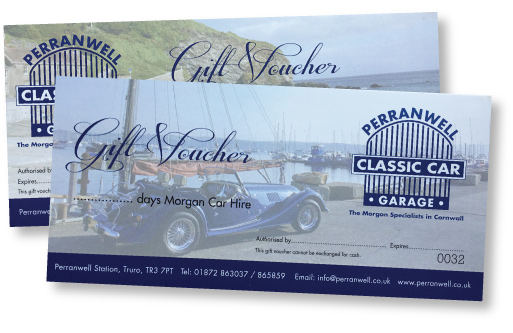 MORGAN CARS
We have over 30 years experience working with Morgan sportcars, including performance upgrades and restoration.
CLASSIC CARS
We work with all types of Classic Cars..helping owners resolve issues and getting cars to run at their best.
WORKSHOP
We have a fully equipped workshop and the capability to work on ALL types of cars.  We are also an MOT testing station
MORGAN HIRE
Explore Cornwall in a convertible Morgan Sportcars.   We have a 2 and 4 Seater Classic Morgan available for hire.
Looking to buy a Morgan or Classic Car?
We have a constantly changing selection of good quality used Morgans and Classic cars for sale in our purpose built showroom near Truro in Cornwall. A selection of the cars currently available is shown below.
Want to sell your Morgan or Classic Car?
We are always looking for good quality stock for purchase or by arrangement on a sale or return basis. To learn more please call Anthony on 01872 863037.
Talk to us
01872 863037
Ring us if you would like to talk to us.
Alternatively send us an email using link below.
CONTACT US
01872 863037
e-mail
OPENING HOURS
Weekdays : 8.30 – 17.30
Saturday : 8.30 – 12.30*
Sunday : Closed
*Afternoon by appointment
CONTACT US
01872 863037
e-mail
OPENING HOURS
Weekdays : 8.30 – 17.30
Saturday : 8.30 – 12.30*
Sunday : Closed
*Afternoon by appointment
THE MORGAN & CLASSIC CAR SPECIALIST in CORNWALL
Perranwell Station – Near Truro – Cornwall – TR3 7PT